MILA TESHAIEVA and the former USSR
THE RUSSIAN SIDE OF BERLIN, 17-20 August 2015
This 4 days workshop will guide participants in the development of a reportage connected to one of the most influential population groups of Berlin.
Mila Teshaieva has focused her work on exploring the themes of changing identity and memory in the post-soviet societies.
Berlin has acquired one of the largest Russian populations in Europe (est.200,000 people). Modern post-war immigration started in the German Federal Republic of the mid fifties with the recruitment of labour. More recently immigrants from every corner of the collapsed Soviet empire came to Berlin to recover their history, creating a cultural reconstitution deeply affecting the city's multiethnic presence.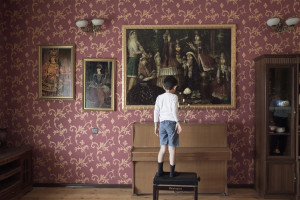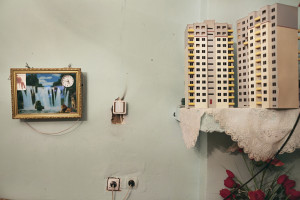 BIOGRAPHY
Mila Teshaieva uses photography, text and video to explore the influence of past and current politics to the human lives, combining in her work an anthropological research with elaborate aesthetics. Since 2004 she engaged herself into long-term projects on the territories of former USSR, in particular, she dedicated the last years working in the Caucasus and Caspian Sea region. This four-year journey resulted in her first monograph Promising Waters, which was released with Kehrer Verlag in 2013.
Mila's work has got multiple distinctions, her series "Buffer Zone" was awarded 1st prize in NPPA Best of Photojournalism 2010 and Visa 'Ani 2009, and the project Promising Waters got the Critical Mass Book Award (2012), the NPPA BOP 2nd Place Portrait series (2013), PDN Photo Annual (2013) and was supported by VG Bild-Kunst and Robert Bosch Foundation grants. Her work was exhibited worldwide with recent solo exhibitions in Museum Art of West Coast in Germany (2014) and Haggerty Museum of Art USA (2015). Mila lives and works in Berlin. www.milateshaieva.com
PROGRAM
MONDAY
14:30 – 16:00
Master's presentation (main work & project outcomes)
16:00 – 18:30
Each participant discusses the story to be developed during the workshop*
19:00 – 00:00
Shooting the assignment
*He/she will present 10 photographs from his/her personal archive (prints or jpgs), exemplifying how the reportage will be developed: a sort of pre-visualization of the story.
TUESDAY
09:30 – 13:00
Shooting the assignment
14:30 – 15:15
Questions about the theme, solving difficult situations
15:15 – 18:30
Portfolio reviews (prints or digital files)
WEDNESDAY
09:30 – 13:00
Shooting the assignment
14:30 – 18:00
Editing and narrowing the focus of the narrative
18:00 – 18:30
Questions, advice
THURSDAY
09:30 – 13:00
Shooting the assignment
14:30 – 17:30
Final editing session. Review of all the work, discussions
17:30 – 18:30
Refining the editing for each participant and final tips
INFO
Workshops will be held at GlogauAir, artistic space in the heart of Kreuzberg.
The use of digital equipment is encouraged as film would have to be developed for the next day.
COSTS
The participation fee for the workshop is 390,00 euro (VAT excluded).
This fee does not include travel or accommodation costs. For discount info click here.
APPLICATION
To apply for a workshop, please fill in the registration form, include a portfolio of 12 images plus a few lines of biography and send it to application@photo-berlin.org.
Please have a look here for more details and check out the Terms and Conditions page.
Applications will be reviewed on a rolling basis.
The workshop is limited to 12 participants.
OTHER SUMMER 2015 EDITION WORKSHOPS
2012/2013 WORKSHOPS: STUDENTS' GALLERIES