BARBARA STAUSS, a photo-editor
EDITING PHOTOGRAPHIC NARRATIVES – Berlin, 21st August 2015
This one day workshop will focus on visual storytelling. It combines a theoretical lecture with room for discussions and the chance to present a project for review.
Barbara Stauss works as a photo editor providing image research and visual concept development for editorial, NGO and corporate clients. She curates and plans photographic exhibitions for cultural organizations and museums: from project management through artist relations to catalogue design and publication.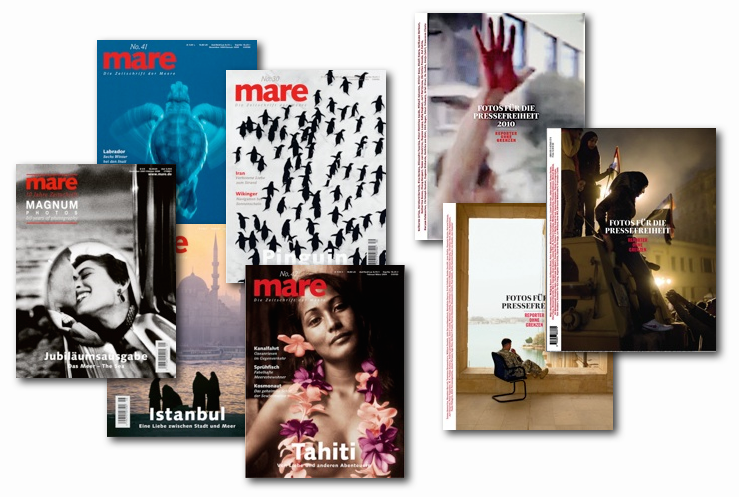 BIOGRAPHY 
Born and raised in Switzerland, Barbara Stauss moved to Berlin to study Russian and later photography and visual communication.
In 1996 she was a founding member of MARE – Die Zeitschrift der Meere, a magazine dedicated to photo reportage and picture essays. Since then she has been Mare's image director, responsible for its photographic concepts and visual narratives.
In 2010 Stauss organized the relaunch of the German edition of Reporters without Borders' annual photo book, receiving the Kress Award the same year.
In addition to these editorial activities, she curates photographic exhibitions and teaches photo editing seminars. She has been a master for World Press Photo 2006, 2007 and 2008 Joop Swart Masterclasses and a member of the 2013 WPPH contest Nature jury. www.barbarastauss.com
PROGRAM
| | | | |
| --- | --- | --- | --- |
| 09:30 – 11:20 | | | How visual story telling at Mare magazine works |
| | | | How text and images work together. Q&A |
| 11:30 – 13:30 | | | Portfolio pitch: each participant will present a project for review |
| 14:30 – 17:00 | | | Portfolio pitch: each participant will present a project for review |
| 17:15 – 18:00 | | | Closing remarks, final suggestions |
INFO
Workshops will be held at GlogauAir, an artistic space in the heart of Kreuzberg, Berlin.
Prints or digital files are accepted for portfolio review.
Participants that have attended a previous workshop during the week will have the
priority in attending this course.
COSTS
The participation fee for the workshop is 120,00 euro (VAT excluded).
This fee does not include travel or accommodation costs. For discount info click here.
APPLICATION
To apply for a workshop, please fill in the registration form, include a portfolio of 12 images plus a few lines of biography and send it to application@photo-berlin.org.
Please have a look here for more details and check out the Terms and Conditions page.
Applications will be reviewed on a rolling basis.
The workshop is limited to 12 participants.
OTHER SUMMER 2015 EDITION WORKSHOPS
2012/2013 WORKSHOPS: STUDENTS' GALLERIES