Stefano De Luigi / CLOSED
CINEMA MUNDI WORKSHOP
7 – 10 MARCH 2013
Cinema and Berlin. Participants will be inspired by Stefano De Luigi's long term project "Cinema Mundi" and they will develop a reportage about the film sets in Berlin.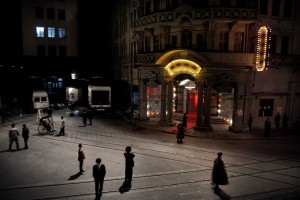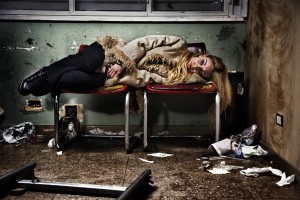 The project "Cinema Mundi"
World Cinema comprises all those cinematographic productions that are not part of the colossal
Hollywood dream-factory. World Cinema not only includes European productions, but also films from Asia, Nigeria and South America, contemporary Chinese productions with a historical-propagandistic background, Iranian religious biographies, Russian old-style communist biographies as well as the powerful and notorious Tollywood films from India. Cinema Mundi has cultural implications, it is a description of a cultural universe and an economic shuttle far removed from the (universally considered) leading Hollywood film industry. World Cinema however, continues to gain success and recognition by winning some of the most prestigious European film festivals and thus quietly changing the history of filmmaking of the last ten years. Stefano De Luigi is about to narrate this alternative cinematographic universe (which spans from Shanghai to Lagos, passing through Moscow and Tehran) by means of a passionate photographic vision, telling the story of this less known film-world which is bursting with life and well on its way to definite recognition.
BIOGRAPHY
Stefano De Luigi is a documentary photographer.
He is a familiar contributor to many international magazines, although he is probably best known for his long term projects which include Blanco- visions of blindness, published by Trolley in 2010 and produced with support from WHO/ Vision 2020 and the 2007 W.E. Smith Fellowship. The multimedia Blanco has been awarded with the second prize at World Press Photo 2011.
He lived in Paris working for the Louvre museum in 1990, documenting museum renovations until 1993.
From 2003 until 2008 he collaborated with the international NGO CBM and with WHO on the project Vision 2020, about blind and low vision people.
In 2007, he has been invited by Locarno International Film Festival to present his project Cinema Mundi (started in 2006) creating a short film to be projected in Piazza Grande, Locarno on 4th August 2007. Cinema Mundi focuses on the alternative cinematographic scene external to the colossal Hollywood dream factory.
Stefano De Luigi has won the World Press Photo three times in different categories (1998, 2007, 2009), and the Moving Walls of Soros Foundation in 2009. In 2010 the project T.I.A. on the African continent won the 1st prize at Days Japan and the Getty Grant for Editorial Photography. He won the 1st prize photo story of the Zoom-in on poverty global photo contest 2011. His work has been regularly published on Stern, Geo, Le Monde Magazine, Sunday Time Magazine, Newsweek and The New Yorker
Personal exhibitions include Paris Carrousel du Louvre (1993), Rome Gallery S. Cecilia (2005), Lille Transphotographique (2007) New York VII Gallery (2010), Paris Polka Gallery (2010), Rome 10/b Photography (2010), New York NYPH11 (2011), MART Museum of Modern Art Rovereto (2011)
Stefano De Luigi Has published two books:
"Pornoland" with a text of Martin Amis, Contrasto/Thames&Hudson/La Martiniere/Knessebeck (2004) – Marco Bastianelli Prize 2005
"Blanco" Trolley Books (2010)- POY Best Book Prize 2010
Stefano De Luigi is based in Milan and is a member of VII Agency since 2008.
http://www.stefanodeluigi.com/
http://www.viiphoto.com/
OPEN EVENT
THURSDAY 7.45 pm: the photographer presents his work: screening, questions and answers.
The open event will launch a a tight schedule workshop promoted by Photo-Berlin.
PROGRAM
The workshop takes place over 3 days from Friday to Sunday:
FRIDAY
9.00 am – 1.30 pm: introduction of the theme, slideshow of other similar works, studying magazines, portfolio reviews
afternoon / night: shooting the assignment
SATURDAY
9.00 am – 1.30 pm: questions about the theme, solving difficult situations, the Master is available for questions, advices, editing pictures
afternoon / night: shooting the assignment
SUNDAY
morning: Final editing session: the students will finish their work and choose 30 pictures.
2.00 pm – 6.30 pm: Viewing of all the works, discussions, voting, the master photographer helps finish the editing for each participant and gives some final pointers.
COSTS
The participation fee for the workshop is 390,00 euro (VAT excluded).
We have thought about the possibility of having participants take part only as listeners (no more than 5), at a cost of €120. Listeners will be able to take part in the theory lessons but they can not ask questions or intervene in any way. They will not be able to take photographs (on the theme on the workshop), offer analyses of the portfolios, or take part in the summer exhibition.
This fee does not include travel or accommodation costs.
DEADLINE
Pre-registration is open until February 17th 2013.
3 Responses to "Stefano De Luigi / CLOSED"