Jocelyn Bain Hogg / CLOSED
PLEASURE ISLAND WORKSHOP
20-23 JUNE 2013
Jocelyn Bain Hogg will hold a 3-day workshop where partecipants will be inspired by his book "Pleasure Island" to learn how to develop a reportage on the capital of clubs and nightlife.
During the same days Berlin will host two of the Summer biggest events: Fête de la musique (21 June) and Christopher Street Day (22 June).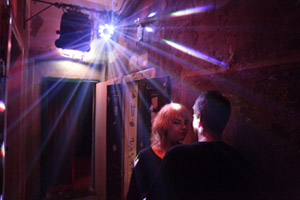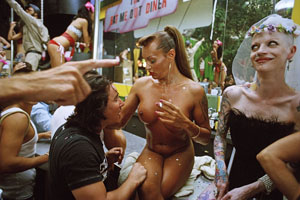 The Project "Pleasure Island"
Pleasure Island documents the people and performers, the music and the madness, of the Ibiza Rocks summer festival. It is both a study and celebration of modern pleasure.
Ibiza has long been the favoured destination for pleasure seekers since the Romans selected it as their hedonistic hotspot; and it's the summer home from home for ravers, hippies, beer boys, clubbers and celebrities alike. When The Stones and Bowie arrived in the early seventies, the dirty, sexy world of rock 'n' roll fell in love with the White Isle, and it's been coming back for more ever since.
Now the Ibiza Rocks festival, established in 2005, is bringing the new generation of rock stars to the island – bands like the Kaiser Chiefs, Arctic Monkeys, Reverend And The Makers, and the Klaxons – and the party has got even bigger and better.
Pleasure Island is the definitive photographic guide to Ibiza and twenty-first century partying.
BIOGRAPHY
Jocelyn Bain Hogg began his career as a unit photographer on movie sets after studying Documentary Photography at Newport Art College. He shot publicity for the BBC, photographed fashion and now works on documentary projects and commercial and editorial assignments. His editorial work features in Vanity Fair, TheSunday Times, The New Yorker,TheObserver, Vogue, Elle, Harpers Bazaar, Marie Claire, Stern, GQ, Esquire, Max, Le Monde, Cahiers du Cinema, LfEspresso and La Repubblica and he has photographed commercially for many clients including Ibiza Rocks, The Kaiser Chiefs, Nokia, Sony, Ikea, Vodafone, O'Neills, English Heritage, Adidas, The Post Office, and Mulberry.
He is the author of five photographic books to date and his first, The Firm, presented an astonishingly intimate view of London organised crime world, and won international acclaim, garnering the prestigious Lead Award for portraiture (2003 Germany). His second book, Idols + Believers, an intensive journey into the nature of fame and today celebrity culture, was published in 2006 with a touring exhibition shown in London, Paris, New York and Miami. A third book, Pleasure Island, looking at the pursuit of pleasure, rock and roll and dance culture in Ibiza, was published in 2008 with an exhibition at The Printspace in London in 2008 and remains on the walls in the Ibiza Rocks Hotel, the home of the Ibiza Rocks Festival.
Currently TheFamily, a ten-year-on update from The Firm, which looks again at Britain organized crime world in a new decade and was premiered as an exhibition at the Visa Pour L'Image festival in Perpignan, France in September 2011, is touring globally as an exhibition with the accompanying photographic book published by Foto8 in December 2011. Most recently, a book about today, A British Entertainment, that looks at the British class system at both public and private events and was released in May 2012.
His recent project Muse (photographed over the last ten years) is a series of close-up photographs of friends, family and partners, which depicts an honest, intimate and personal insight into femininity. In addition to the continuing British Youth series, he has finished a joint book project about London, Tired of London, Tired of Life, with artist Paul Davis and designer Henrietta Molinaro due for publication by Emphas.is in December 2012. He is a member of the VII Photo Agency.
www.jocelynbainhogg.eu
www.viiphoto.com
PROGRAM
The workshop takes place over 4 days from Thursday to Sunday.
THURSDAY
10.00 am – 11.00 am: Photo-Berlin team introduces the workshop
afternoon / night: Solo shooting the assignment
7.30 pm – 9.00 pm: Open Lecture. The photographer presents his work: screening, Q&A.
FRIDAY
9.00 am – 1.30 pm: Introduction of the theme, slideshow of other similar works, studying magazines, portfolio reviews
afternoon / night: Solo shooting the assignment
SATURDAY
9.00 am – 1.30 pm: Questions about the theme, solving difficult situations, the Master is available for questions, advices, editing pictures
afternoon / night: Solo shooting the assignment
SUNDAY
2.00 pm – 6.30 pm: Final editing session: viewing of the students' work (30 pictures each, previously selected), editing and discussion. The Master photographer gives some final tips.
COSTS
The tuition fee for active participants is € 390 (VAT 21% excluded)
that means € 470 (VAT 21% included).
There is the possibility to attend as listener at a cost of €120 (VAT 21% excluded).
Listeners will only take part in the theoretical lessons.
This fee does not include travel or accommodation costs.
SUBMISSION
To submit your participation for a workshop, please fill and send the registration form
back via email to info@photo-berlin.org
including your full name, phone number, age, current address.
Please attach a digital portfolio of no more than 20 pictures (jpeg 1200 px max lenght)
2 Responses to "Jocelyn Bain Hogg / CLOSED"